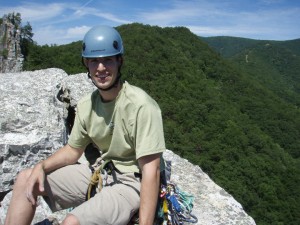 Hello fellow climbers!  I'm Gif, a 29 year old living in Pittsburgh, PA.  Before I found rock climbing, I was a whitewater kayaker.  During the hot, summer months in the 'burgh, the rivers are very low and there aren't many chances to get out unless it's raining.  I was getting bored, so I tried rock climbing and fell in love.  I wanted a sport I could do during the summer months.  Little did I know that I would become obsessed with climbing!  That was about 6 years ago when I was in college.  During my collegiate years, I didn't have much time to climb being an engineering student.  This past few years, however, the real world (and real paycheck) have let me climb outside a lot!  Weekend trips to the New River Gorge and Red River Gorge have become frequent.
I'm excited to share some of the things I've learned over the years on this blog.  I study training methods, read many books, and work with a trainer, so I have some things to share on that topic.  I've also gone out with a climbing guide a few times, so I'll share some of that technical knowledge as well.
I hope this site is entertaining and inspiring for all climbers of all abilities out there.  I hope to make you think when you read some of my training or tech tip posts.  The trip reports will be entertaining and the gear reviews will help you make confident purchases.  If you have any comments, contributions, or complaints, please make comments on the blog posts or visit my Contact page.  I will respond to all comments and emails!
See you at the crag,
Gif